Meet Dr. Nguyen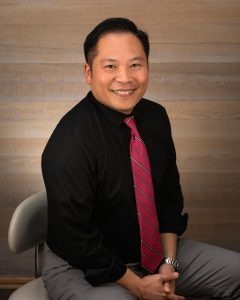 Dr. James Nguyen has been practicing dentistry for over 20 years! His family originally immigrated from Vietnam to North Seattle in 1979. Dr. Nguyen graduated from Roosevelt High School and received his undergraduate from the University of Washington. Dr. Nguyen then went to dental school at Tufts University in Boston, Massachusetts. After graduating from dental school in 1999, he moved back to Seattle and lived in Queen Anne. He has worked in multiple offices around the greater Puget Sound area, including Bellingham, Olympia, Silverdale, and Seattle. In 2003, he moved to Lynnwood and took over the downtown Seattle practice. He has enjoyed owning his Edmonds and Seattle offices and serving patients all over the the Puget Sound!
Dr. Nguyen married his college sweetheart, Karen, in 2000 and has two sons. He enjoys reading non-fiction, running, cooking and of course eating, traveling, bonsai, Japanese gardening, and Koi keeping.
His professional involvements include memberships with the American Dental Association and the Washington State Dental Association. He is also an associate professor at the University of Washington dental school and is involved with the RV Tucker study club. He is committed to consistently learning new techniques and updating his materials in order to provide his patients with the best that dentistry has to offer!